Remote Deposit Capture FAQ
What is Remote Deposit Capture (RDC)?
RDC is a new feature within the First National Bank (FNB) Mobile app. It is a secure service that allows you to deposit paper checks into your FNB checking or savings account from anywhere using your mobile device.
Which mobile devices/smart phones are compatible with Remote Deposit Capture?
The FNB Mobile app is needed for Remote Deposit Capture. The app is currently available for Android™ (greater than 2.2) and iOS® devices (iPhone® with iOS 5.1 or later). A camera in your mobile device and a connection to the Internet is required in order to use Remote Deposit Capture. Service may be limited depending upon your local carrier.
What version of the Mobile app do I need to use Remote Deposit Capture?
Remote Deposit Capture is a feature included in the most recent version of our FNB Mobile app. If you don't see "Remote Deposit" as a menu option, download our latest app.
How does Remote Deposit Capture work?
Within the FNB Mobile app, select 'Remote Deposit' and then the 'Deposit Check' button. Next you'll select the account you want to deposit in to and enter in the amount of the eligible paper check. Follow the on screen instructions to take the picture. When taking the picture, hold the camera above the check including all 4 corners of check within picture. Do not hold camera at an angle to check. 
Click "Submit". Click "I agree". After agreeing, the images and associated deposit information are then securely delivered to FNB electronically.
Who is eligible to use Remote Deposit Capture?
Eligibility requirements include but are not limited to: account must be open a minimum of 30 days and can't have a charge off account with us.
How do I enroll for Remote Deposit Capture?
First, log into the FNB Mobile App and click the 'Remote Deposit' option on the main menu.
A link to the User Agreement is located under the MORE section on the main menu. Please read through the terms and conditions before selecting that you agree to them.
How should I endorse the check?
Endorse all checks transmitted through RDC with "For mobile deposit only, account #____________" and sign the back of the check.
EXAMPLE:
<![if !vml]>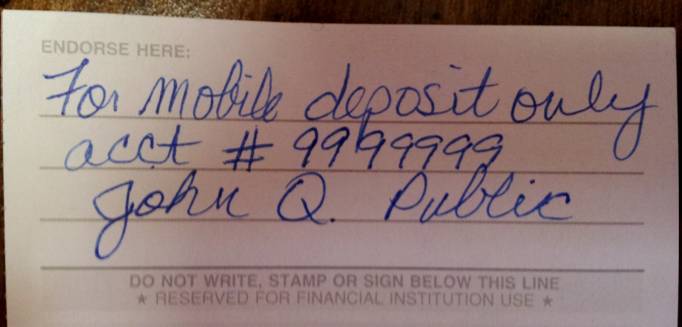 <![endif]>
Why do I need to include the words "For Mobile Deposit only, account #__________" on the back of my check?
These words ensure that your check isn't deposited again at a FNB branch or another financial institution. This helps protect your account from theft and fraud. Checks not endorsed with these words and your signature will be rejected.
What types of accounts can I deposit funds to?
You can make deposits to your checking, savings, or money market accounts.
What should I do if I need assistance or experienced a technical problem while using Remote Deposit Capture?
RDC is a self-service feature and designed to be user friendly. If you need help, please contact us by phone at (606) 474-2000 or in person at any one of our branch locations. Representatives are available by phone between 8:30am - 5pm, Monday through Friday.
How do I know if my deposit was successful?
You will receive a confirmation in the Mobile app that your deposit has been transmitted to FNB. This confirmation signifies that the deposit has been received. Receipt of this mobile confirmation does not mean the transmission was error free, complete, or will be considered a deposit and credited to your account. FNB is not responsible for items we do not receive or for images that are dropped during transmission. 
Please confirm that the deposit has posted to your account up to two days after the mobile deposit.
What should I do if I experience an error?
Notify FNB of any suspected errors regarding your mobile deposit right away, and no later than 60 days after the applicable account statement is provided. Unless you notify us within 60 days from your statement date, such statement regarding all deposits made through RDC shall be deemed correct.
What should I do with my paper check after I deposit it?
After your mobile deposit, retain the paper check in a safe place for at least 30 calendar days. Do not transmit or provide the check to any other person or financial institution. After 30 days, either destroy the check that you transmitted or mark it as "VOID". During the 30 day period, we may request to see the paper check. Please do not mail the paper check to us unless you are requested to by an authorized FNB representative.
How much does Remote Deposit Capture cost?
At this time there are no fees associated with this service. FNB reserves the right to charge a fee in the future.
What type of checks are eligible for Remote Deposit Capture?
Checks drawn on U.S. financial institutions
Checks payable to multiple parties if account is owned by same
Money Orders
Traveler's Checks
Cashier's Checks
What type of checks are not eligible for Remote Deposit Capture?
Do not scan or deposit any of the following types of checks. They are considered ineligible items.
Checks drawn on a financial institution located outside the United States
Savings bonds
Checks payable to any person or entity other than the person or entity that owns the account that the check is being deposited into
Items that are missing processing information, such as illegible or missing account or bank routing numbers
Items that have been previously electronically captured and endorsed
Checks that have been altered in any way, or that you know or suspect, or should know or suspect, are fraudulent or otherwise not authorized by the owner of the account on with the check is drawn
Checks payable jointly, unless deposited into an account in the name of all payees
Bond coupons
Treasury Tax & Loan (TTL) payments
Checks payable on sight
Checks with any endorsement on the back other than that specified in this agreement
Remotely created checks
Altered checks
Returned items
Checks that are postdated or more than six (6) months old
Checks not payable in United States currency
Are there limits on the number of or amount of deposits made using Remote Deposit Capture?
The current daily dollar limit is $1,500 per day. The current monthly dollar limit is $5,000 per any 30 consecutive calendar day period.  If you attempt to initiate a deposit in excess of these limits, we may reject your deposit. If we permit you to make a deposit in excess of these limits, such deposit will still be subject to the terms of this Agreement, and we will not be obligated to allow such a deposit at other times. There is no daily or monthly statement cycle limit on the number of items, as long as the respective dollar limits are not exceeded. 
When will my deposit be available?
In general, if an image of an item you transmit through the Remote Deposit Service is received and accepted before 4:00 p.m. (EST) on a business day that we are open, we consider that day to be the day of your deposit. Otherwise, we will consider that the deposit was made on the next business day we are open. Funds deposited using RDC will generally be made available in 3 business days from the day of deposit. We may make such funds available sooner based on such factors as credit worthiness, the length and extent of your relationship with us, transaction and experience information, and such other factors as The Bank, in its sole discretion, deems relevant.
During enrollment, I am asked for my account number but what if I have more than one deposit account that I would like to deposit into remotely?
You can deposit remotely into any deposit account you have with FNB.  Please call us at (606) 474-2000 so that we may enroll your additional accounts for you.
What if there is a disruption in service and I can't make a deposit using RDC?
In the event this Service is not available to you, please deposit your check at a branch office location, through a participating ATM, or by mail.
Is it safe to deposit checks via your mobile device?
Yes. This service requires you to log into the FNB Mobile app and it is secure.
What are some security best practices if I decide to use my phone to deposit checks?
Setup alerts and check your account balances. Alerts can tell you when your account balance is low, when your balance exceeds a limit you set, and even when a transaction over a specified amount is posted to your account.
Protect your personal information: Don't share your PIN or password with anyone, and don't save them on your mobile device. Think twice about accessing your accounts on a phone or device that you share with another person.
Use passwords: Password protecting your mobile device can help prevent access to your information in the device. Don't use easily identifiable passwords like your birthday and never save passwords on your phone.
Use secure websites or apps: don't login to your accounts through links that are sent to you by an email address or on a website or app that you don't recognize. When using free or public Wi-Fi, try to use a private network and go to a secure site that begins with HTTPS.
Remove sensitive information from your old phone or device: If you get a new phone or mobile device, be sure to delete your data and information from the old phone. You may have left names of banks or credit unions, passwords or other clues that could help identify your personal information.
What happens if my phone is lost or stolen?
First, follow all of the steps recommended by your service provider for a lost or stolen device.
Report loss or theft to us as soon as it occurs. 
If you're using the "Save User ID" setting on the Mobile App, please visit www.fnbgrayson.com, log in to Internet Banking, and change your Personal ID.

If you're not using, "Save User ID" setting, there is no need to change your ID