MOBILE BANKING
It's here. First National Bank is pleased to announce our new mobile banking platform!!
First National Bank's Mobile Banking is an easy way to access First National Bank accounts from anywhere, at any time, using your mobile phone. You can use our App to view your account balances and activity, transfer money between accounts or pay bills.Click the icon below to be taken to the correct marketplace for your phone.
4 different way to access your accounts depending on your mobile device.
Non smart phone users go here: www.fnbgrayson.mobi
Smart phone users go to the following app stores or scan the QR codes below:
Mobile Banking FAQ's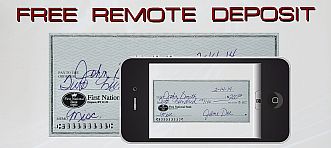 What is Remote Deposit Capture?
It is a new feature within the First National Bank (FNB) Mobile app. It is a secure service that allows you to deposit paper checks into your FNB checking or savings account from anywhere using your mobile device.  
How does Remote Deposit Capture work?
Within the FNB Mobile app, select 'Remote Deposit' and then the 'Deposit Check' button. Next you'll select the account you want to deposit in to and enter in the amount of the eligible paper check. Follow the on screen instructions to take the picture.  When taking the picture, hold the camera above the check including all 4 corners of check within picture.  Do not hold camera at an angle to check
How should I endorse the check?
Endorse all checks transmitted through Remote Deposit with "For mobile deposit only, account #____________" and sign the back of the check.

Example:
What is BANK BY TEXT?
It allows you to receive your balance and history directly to your phone via text message.  Send BAL in a text message to 39257 and get your balance in seconds.  Send HIST in a text message and receive the last 5 transactions.  This new product is free to you!  To enroll, text ENROLL FNBGRAYSON to 39257.  You don't need a smartphone for this service.  You do need a phone with texting capabilities/service.  Your cell phone carrier text message rates may apply.
What is Mobile Banking?
FNB Grayson's Mobile APP puts everyday banking at your fingertips. It's free to download and gives you the ability to take a quick glance at your accounts and make simple transactions on the go.
Do I need internet access on my mobile device?
Yes, you must have internet access on your mobile device.
What functions are available in Mobile Banking?
With Mobile Banking, you'll have access to many of the functions available through Internet Banking. For security reasons, some functions are only available through Internet Banking. With Mobile Banking you will be able to do the following along with other functions like viewing FNB locations and contact information.
• View account balances and transaction information
• Transfer funds between accounts
• Access Bill Pay
• View statements
How do I sign up for Mobile Banking?
You will need to be enrolled in Internet Banking. If you are not currently enrolled, just visit www.fnbgrayson.com to enroll. If you are already enrolled, visit the Google "Play Store" or the iTunes store and simply download the FNB Grayson App. Links are available at our website, www.fnbgrayson.com.
Once the APP is downloaded, simply log in with your Internet Banking User ID and Password.
Is there a fee for Mobile Banking?
First National Bank provides Mobile Banking at no cost to our customers. Additional charges may apply for internet usage depending on your wireless carrier. Please contact your wireless provider/carrier for details on related rates and charges.
What options will I have regarding Bill Pay?
For added security, Bill Pay functions are limited within Mobile Banking. You will be able to make one time payments to already created payees, review scheduled payments and view bill payment history.
What does it mean if the Bill Pay option indicates "There are no bill payees"?
This means that you have not used the Bill Pay option in Internet Banking or have not set up payees.
Where do I find my recurring transfer(s) and/or payment(s)?
Mobile Banking is meant to be a quick convenient access point for accounts. Mobile Banking is not meant to replace Internet Banking. Recurring transfers and/or payments can be accessed through your regular Internet Banking.
What does it mean when I try to log in and receive this message, "Internet Banking requires more information "Please login to Internet Banking and update the required information"?
This means that Internet Banking needs you to log into the regular Internet Banking site and update security information like your password and/or security questions.
Why does my Mobile Banking screen look different than my friend's screen even though we both bank at First National Bank?
Each mobile device model and service provider offers a variety of web browser applications, and First National's Mobile Banking is capable of adjusting to most types of phones that offer web access. However, different mobile devices may display a variety of font sizes, colors and buttons.
Is Mobile Banking secure?
Account information is not stored on your mobile device. All of the security features from Internet Banking user credentials are in place to safeguard your privacy and protect your account information.
What are some security best practices if I decide to use my phone to access my accounts?
Setup alerts and check your account balances. Alerts can tell you when your account balance is low, when your balance exceeds a limit you set, and even when a transaction over a specified amount is posted to your account.
Protect your personal information: Don't share your PIN or password with anyone, and don't save them on your mobile device. Think twice about accessing your accounts on a phone or device that you share with another person.
Use passwords: Password protecting your mobile device can help prevent access to your information in the device. Don't use easily identifiable passwords like your birthday and never save passwords on your phone.
Use secure websites or apps: don't login to your accounts through links that are sent to you by an email address or on a website or app that you don't recognize. When using free or public Wi-Fi, try to use a private network and go to a secure site that begins with HTTPS.
Remove sensitive information from your old phone or device: If you get a new phone or mobile device, be sure to delete your data and information from the old phone. You may have left names of banks or credit unions, passwords or other clues that could help identify your personal information.
What happens if my phone is lost or stolen?
First follow all of the steps recommended by your service provider for a lost or stolen device.
If you're using the "Save User ID" setting on the Mobile App, please visit www.fnbgrayson.com, log in to Internet Banking, and change your Personal ID.
If you're not using, "Save User ID" setting, there is no need to change your ID.
We recommend locking your device with a password. If your device is lost or stolen, the phone would not be accessible.
Home